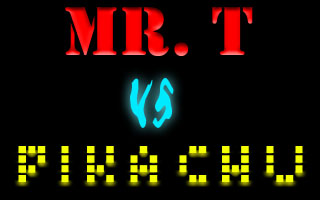 Welcome to the Mr. T vs. Pikachu homepage! It is here, that you will find the slaying of the vile rodent, Pikachu, by none other than America's favorite bad ass Mr. T! But in order to see this grand tale, you will need Flash 4. So if you don't have it, get it, and then come back here! Recently updated with 2 preloaders!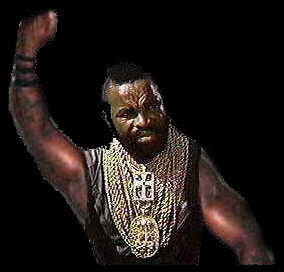 The Story Begins...
Mr. T was walking through one of his favorite neighborhood, when he sees a young boy in distress. Mr. T talks to the boy and learns that none of the kids are going his youth centers because of Pokemon! Mr. T is infuriated, swears revenge, and goes to some of his colleagues for some information....
Like what you see here? Then quit yo jibba jabba before I highlight you head black and blue, and send me some e-mail sucka!
Credits:
The Mr. T Image Archive - for all the T-pics that I used in my movie! (Many of them I edited)
The Mr. T Jibba-Jabba Archive - for all the T-quotes that I used in my movie!
Other Sound Effects - Other sound effects that I used in the movie....if you don't know what they were from go to this page to find out.